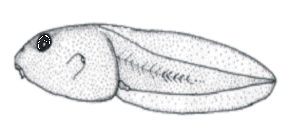 A frog's life
A tadpole (young frog) has a spherical head with a diameter of 2.5 mm and swims with a speed of 5 mm/s in a pool of dirty water that has a density 1.1 times the density of clean water and a viscosity that is 1.3 times the viscosity of clean water. To study in detail the flow around this tadpole, one researcher has built a large-scale, geometrically similar model with a head diameter of 25 mm.
a) Is it possible to make meaningful tests of the tadpole swimming using the above model i) in a wind tunnel, ii) in a water tunnel, and iii) in a towing tank filled with glycerin (all fluids at 20°C) ?
b) Now assume that tests of the model are made in a towing tank filled with glycerin. The drag force on the model is measured to be FDmodel. Estimate the drag force on the tadpole.

Contributed by Stavros Tavoularis, Department of Mechanical Engineering, University of Ottawa, Ottawa, Canada. Image from North American Tadpoles.